Do You Want to Play Real Money Ludo Game and Win Cash?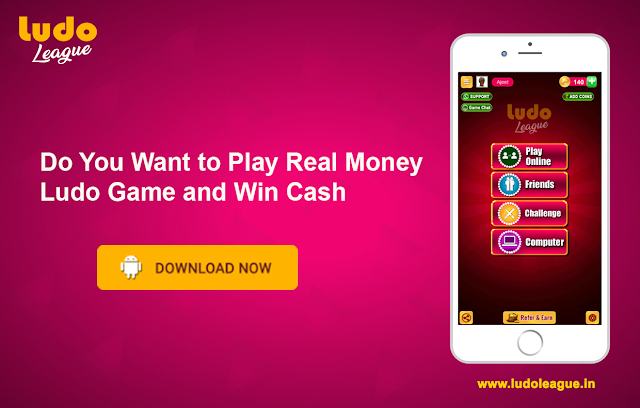 2021-04-09 12:38:27
Ludoleague is a real money Ludo game where you can win cash play with online real players. If you are a good skill gamer, then this is the perfect platform for you! Why? Because you can play Ludo games and get money instantly at your paytm wallet at the same time. Really? Yes there are different way to win money by playing four token or two token where you can challenge against your fiend or real players get the big amount. On this game you can play small amount to big amount like Rs 50 to Rs.2000 only you can use the amount which you want to play.
Play Against Real Players
Ludo league have more than 3Lakhs real players which play games daily. Although any can participate in Ludo game like adult, boys and young show your Ludo skills. Keep in mind anyone can become winner to show good Ludo skills and win money online. You can also get sign up bonus form download the Ludo league game.
No Cheater
All the games on Ludo league are fair, and there are no cheaters and also there are no fake players. Any cheating attempts will be detected as fast as possible and cheaters account will be disabled as soon as possible. So all to play your best and try to win the real money. You can also complain on WhatsApp group that look likes cheaters.
Safe Secure and Simple Payment
Ludo League is a very simple game and also very secure real money Ludo game. And payment options are also very simple like you can payment your money in your dashboard through PayTm or your bank account and also redeem your amount in your Paytm wallet or bank account.
Challenge your Friend or Real Players and win Cash Money
Keep in the mind you can challenge your friend or challenge real players online and win cash. So you have the options to play your friend or real players. You can play Ludo League game any time in a Day. You can play ludo game anywhere any time with your friend or family.
Redeem Your Money Instantly
Ludo league provides instant redeem options and get your win money in your wallet or bank account in a same time when you will win the game.
Our Support Team
For any query related Ludo league, please contact our customer care team from your registered email id at ludoleague@gmail.com and also share your concern issues on WhatsApp group support number.
Ludo League is a leading real money Ludo game provider in India. You can play fair and simple Ludo game with real players and win cash. If you refer to your friend and get Rs. 25 Bonus Safe, Secure and simple withdrawal process. Download the Ludo game from our website form www.ludoleague.in