Ludo League: How to Withdrawal Ludo Money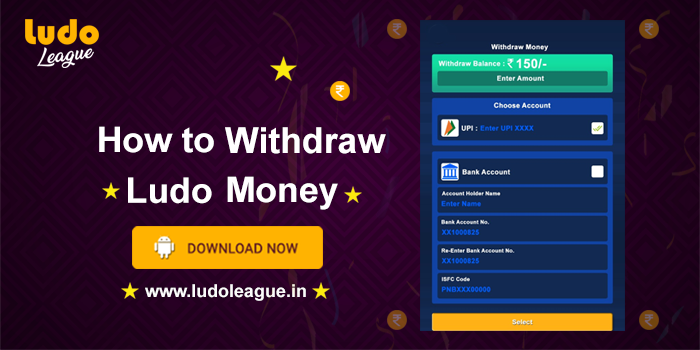 2023-01-06 16:42:30
Withdrawing money from online games has become very easy these days. Those who win money from the game, now through the medium of online payment, they are able to withdraw money in their account in a very safe way from their online Ludo money app. Withdrawing money from Ludo Money App is usually easy, secure and accessible to any player with an internet connection.
Ludo League provides an effective and reliable service that securely transfer your winning money to your account quickly and hassle-free. Withdrawal and truncations are very secure and private in Ludo League. All you have to do is enter your transaction details, and the amount you won is instantly credited to the app.
What is Ludo Money?
A multiplayer strategic board game that is also known Ludo is not unknown to us. We are playing this game since childhood and we still like playing it now for many reasons including time pass competing against our friends or family member, and, most importantly, because it is only enjoyable.
Today Ludo physical game is now have moved to online mode due to change in technology most of the users have a smartphone and also keep Ludo app in their device. And most importantly thing is that we told you that you could make money by playing your favorite game? You got it listen correctly! There are many apps now allow users to bin cash by participating in the online games of Ludo.
The winning amount form Ludo game is called Ludo Money, and the app that permit us to win real money is commonly referred to as Ludo Money App.
If you are searching for Ludo games that make sure fair play and safe and secure transaction, Ludo League is your solution. You may play Ludo games online with online players from all over in India when you download and Play Ludo League Ludo Games, and you can earn money directly from your mobile device.
Ludo Money Withdrawal Process in Ludo League
As you know that there are many Ludo real cash app put a lot of hidden restraints on the withdrawal of money, and the process the withdrawal is very complex and untrustworthy. If we talk about Ludo league, offers instant withdrawal – completely hassle free.
How to Withdrawal Money on Ludo League?
Ludo league is used very simple and easy process for withdraw money from the app to also ensure that all financial transactions are kept private and risk- free for all players. Follow these steps:
Step 1: Go to the dashboard section and locate the wallet. Click on wallet and you can see your total coins and click on the redeem button.
Step2: Enter the withdrawal amount which you want to redeem and enter bank details and select the withdrawal mode like UP or Bank Account.
Step3: when you enter a valid UPI or bank account number in which you want to receive your winning amount click on proceed and confirm the withdrawal.
Ludo league is used most secure payment gateways for withdraw and deposit money. They have integrate recognized and secure payment gateway.