Play 24*7 Online Multiplayer Real Money Ludo Game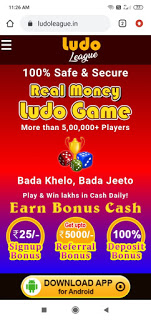 2021-04-09 12:45:53
Download the Ludoleague game app and you can get Rs. 25 bonuses. And play safe secure and simple payment options. You can also use Boosters to win more cash. Ludoleague is not a normal game, we have provided many innovative ideas and some extra features that users play many game and win more cash. We have developed this application by using latest technology with some different rules and features that not increase your money but also push your playing skills. Play Hazel free real money Ludo game in Ludoleague.
New Features with Add in Ludoleague Game
1. Use Boosters
2. Instant Withdrawal option
3. Play with Friends
4. Challenge your Friends.
5. Two Token game
6. Refer & Get Rs.25 Bonus
7. Join WhatsApp group and ask your query
8. Fair Play Policy
9. Lighting and fast gaming Experience
10. 24*7 Customer Support
You can also play with real players or opponents and earn cash, which you can withdraw your winning amount in your paytm Wallet safely
Strategies for Play Online Real Money Ludoleague 24*7
· Open your goti when get your chance
· Take time and think before move your possible
· Try and learn the number that you will lead you to good lead.
· Always try to kill your competitors and increase the chance of victory in the game.
· Never use your Booster early always use your Booster in the last chance when you beat your competitors.
·
The 24*Ludoleague game is for everyone, youngsters and adults and senior citizens all can enjoy it equally. Ludoleague is the leading 24*7 online real money game that can be played online and it is a 2, 4 player's game, where players have to race their tokens from starting to end as the rolls die. Play online Ludoleague 24*7 is a fun warranty game for you & your friends.