Top-Rated and Best Real Money Online Indian Multiplayer Ludo Game to Win Real Money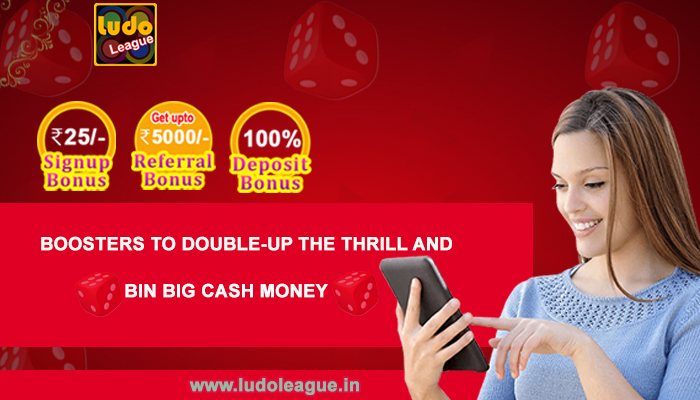 2021-04-09 12:33:01
"In our life is more entertainment if you play game" We realize that how much you delight playing the game, and we know you would love it, even more, when you earn money for what you enjoy doing.
So we brought an online version of the game you love in in the form of Ludoleague. Our attractive designs and advanced technology ensure that you enjoy playing the game flawlessly on your mobile. It is a multiplayer online Ludo game available for Android.
Ludoleague is an all-new exciting online real money Ludo game through which you can earn real money by playing against real Ludo players. In Ludoleague game you can found a new twist such as Boosters and unique features that will enhance your Ludo skill playing experience to whole a new level.
You can also play with real opponents or your friends and earn Paytm ludo money else you can withdraw your winning amount in your bank account safely. Play and compete against real players to win big cash money.
Ludoleague: Giving you Exciting Bonus Offers.
1. New users will get bonus amount of Rs.25 in his/her account when they sign up for the first time.
2. Get upto Rs.5000 Referral Bonus.
3. 100% Deposit Bonus.
4. On first purchase of your friend. You get Rs.5/-coins.
Ludoleague Game Changer
1. Ludo league game changer.
2. Booster to Double up the thrill.
3. The more skilled you are; you can win big.
Our Ludo League Game Features:
1. Lighting fast gaming Experience
2. Play smooth and win more money
3. Play Daily 24/7–365 Days
4. Exciting offers and prizes
5. Fair play Policy
6. Safe Secure and very Simple Payment
7. Use Boosters in Real cash
8. Play 2 peg game of Ludo. This is the sort and faster version of the game where players play with only 2 pegs.
9. Ludo Flash any player that first cuts goti of other player wins the game.
10. Players can invite their friends and challenge them for a game of Ludo in this game version. You have to simply share the game code of Ludo League with your friends through social media e.g. WhatsApp, Facebook, Email etc..
As you know that Ludo is very simple board game, it is not that easy as you may be thinking. Apart from a sharp concentration, the good analytical ability is also required. If you want know more about Ludo rules, how to play online Ludo game and earn real money. You can visit our website https:///www.ludoleague.in.